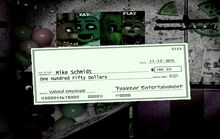 Mike Schmidt is the main protagonist in the official Five Nights at Freddy's as well as appearing in The Return to Freddy's as the protagonist.
History
He works during the night shift as a security guard at Freddy Fazbear's Pizza, making sure nobody breaks in to the building. Similar to the first game, the game is played from a first-person perspective as him.
He returns to the place after being able to work there again, and there is thought to be no danger, since the animatronics were thought to be fixed. However, Phone Guy later states on Night 2 that it was discovered that the animatronics' wiring is messed up, and that the animatronics are still broken. However, his job is tougher due to not having functional doors and useless lights, and instead perfectly timing the use of a Freddy Fazbear Mask.
At the end of Night 7, he is fired because of the same reasons as when he was first fired: tampering with the animatronics, general unprofessionalism, and odor.
Appearance
Mike's appearance, like the other protagonists, cannot be seen, and unlike in the first Five Nights at Freddy's, his body parts can't be seen either. This is because the whole game, with the exception of the minigames, is from a first-person view.
Ad blocker interference detected!
Wikia is a free-to-use site that makes money from advertising. We have a modified experience for viewers using ad blockers

Wikia is not accessible if you've made further modifications. Remove the custom ad blocker rule(s) and the page will load as expected.